While growing up, the Mom series was always there but for some reason, my local channel thought it would be fun to air random episodes rather than season by season. I have watched a few episodes earlier but never really understood what it was about until a couple of years ago. My age had to do something with my understanding too.
At that time, all I knew was a group of women met at a Bistro then went for a meeting which looked like a gathering and then they returned home to the bunch of problems that they were dealing with at that time. I did really think, was this even a show?
It was majorly because of two reasons. Most of the series that came out was men-centric and women were used more of filler or even as the "glam-quotient". The women TV characters I knew used to be either dumb or will be playing a sidekick to the smart-ass know-it-all hero. Some were just used for sex and nothing more. The above lines didn't sound exactly how I wanted it to be but again, it is better than how the television had women characters. Now, don't get me wrong. There were some good powerful women characters too but I don't remember watching a show that is totally about women or women who are trying to be sober.
Years later, when the harsh reality, depression and sadness became a friend of mine, I turned to online shows and found Mom series online. Today, I wasn't able to get enough of it. The show came to me at the right time, gave me hugs and stood there with me during my troubles.
Who knew a show about a few flawed women will be this comforting?
Maybe, because nobody is perfect, Maybe, because the world needs more women supporting women at the moment. They made us all look like we were a part of their group and even watching those AA meetings were comforting.
Staying sober is one of the most difficult battles and not many understand how hard it is. It takes a lot to stay sober and a tiny temptation can turn the world upside down. While talking about Alcohol itself as taboo here, imagine women fighting the addiction and the consequences. The topic is serious but the show found a way to see the funny side of it.
**
Everybody needs a Marjorie in their life. If you have found yours, you are lucky. This woman did go through a lot that she knew what to say at the right moment and can really comfort and pull anyone out of the misery they are in. I wonder how she always says the right thing. At times, Marjorie was there even for us, the viewers. Her advice worked well in real lives too. I really did.
What makes Marjorie even better is that she isn't perfect. She knows she is flawed and she handles them very well. It was a nice touch from the writers to give her an award for the same.
---
There are no enough words to describe how cool Allison Janney is as a person. The world looks up to her, the characters she plays. She, not only, does her best but also brings out the best in everyone. There is no Mom series without Bonnie and her love-hate relationship with Marjorie. More than Bonnie's romance with Adam or her chemistry with Christy, Bonnie and Marjorie's relationship arc is the best. Though she constantly pulls everyone down, acts selfishly in most of the scenes, she is just too good to be ignored. She was there for everyone, be it Jill or even Wendy, the one person she always makes fun of, no matter what.
---
When Jill was first introduced, she wasn't the best or should I say the most messed up of all. With every single episode, she grew up to be better.
When someone plays a famous character on screen, it is just too difficult to look beyond that. Jaime Pressly already had Joy Turner among other roles. Still, she pulled off real good and gave life to Jill.
Jill did go through a lot. While staying sober was a big fight, she also had to struggle with miscarriage and that storyline was heartbreaking yet the writers made sure to convey them through comedy. Jaime Pressly is just too funny and the world needs more of her too.
---
From being "Weeping" Wendy to become one of the best characters in the show, I cannot imagine how enjoyable it is to watch Beth Hall. Among all the casts, I can relate to her more for random reasons. Though the show has given me a lot of moments, the hug that Bonnie and Wendy shared is the best of all.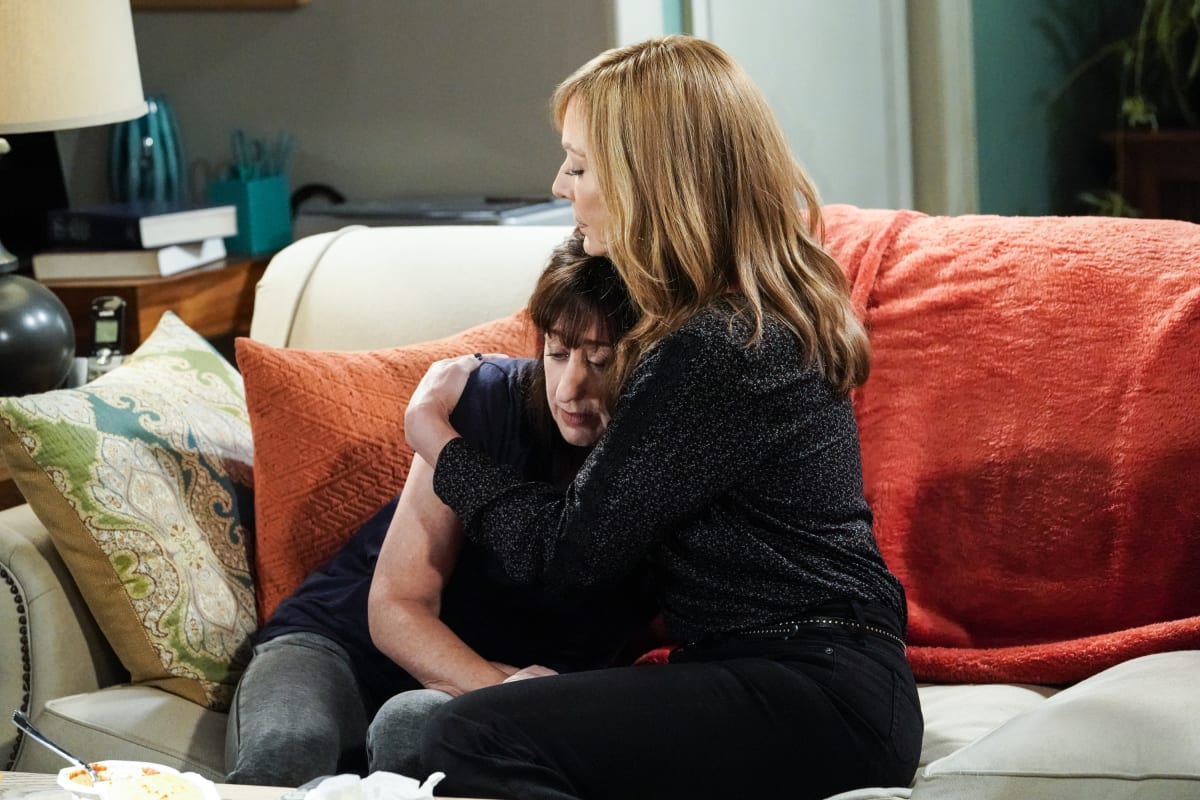 ---
Anna Faris' Christy was one of the pillars of the show right from day one. It certainly was hard to see her go in the last season. While everyone had their own battles, Christy's struggle was the major plot and it was just too good to see her grow. From being an alcoholic who threw her life away for drugs, to get her life back in order and to go to law school, the growth is inspiring.
---
If you have watched '3rd Rock from the Sun' or literally any other show with Kristen Johnston, one would know what she can bring to the table. Kristen as Tammy is one of the funniest characters that deserve a spin-off. One just cannot get enough of Kristen.
I can pen a whole lot about Adam and Andy and of course, other characters who only made the show better.
---
This show isn't just about comedy or just friends hanging out together. This is a comedy really about something. Something that has to be told. This show has given me a whole new perspective about Alcoholism and AA meetings and personally, I know a few people who got inspired by the show to take up sobriety seriously. Also, most importantly, the way all the characters grew and got their life back in order tells you that it is okay to restart at any point in life and if you have a few good friends to watch out for you, you can do literally anything.
Comedy is one thing, to inspire millions to do something useful in their life is a whole new subject. I will be always grateful for this series for inspiring me in many ways and for helping me to get out of my hell hole. I just don't find the right words to thank the characters and the writers. I wish it could go on forever. I'm just not ready to say goodbye yet.
*Cries*